Fed Up Of Hotels? Go Houseboating!
Have you ever experienced how fast the relaxing rocking motion of waves can put you into a deep hypnotic sleep? And when you wake up in your swaying bed the next morning, you feel completely refreshed and energized ready to rock?
In case you do not understand what I am talking about, here is what I recommend you to do this summer: Instead of staying onshore by the beach, gather your favorite people in the world and rent a houseboat. You will never sleep so well as on water – guaranteed!
What is a houseboat vacation?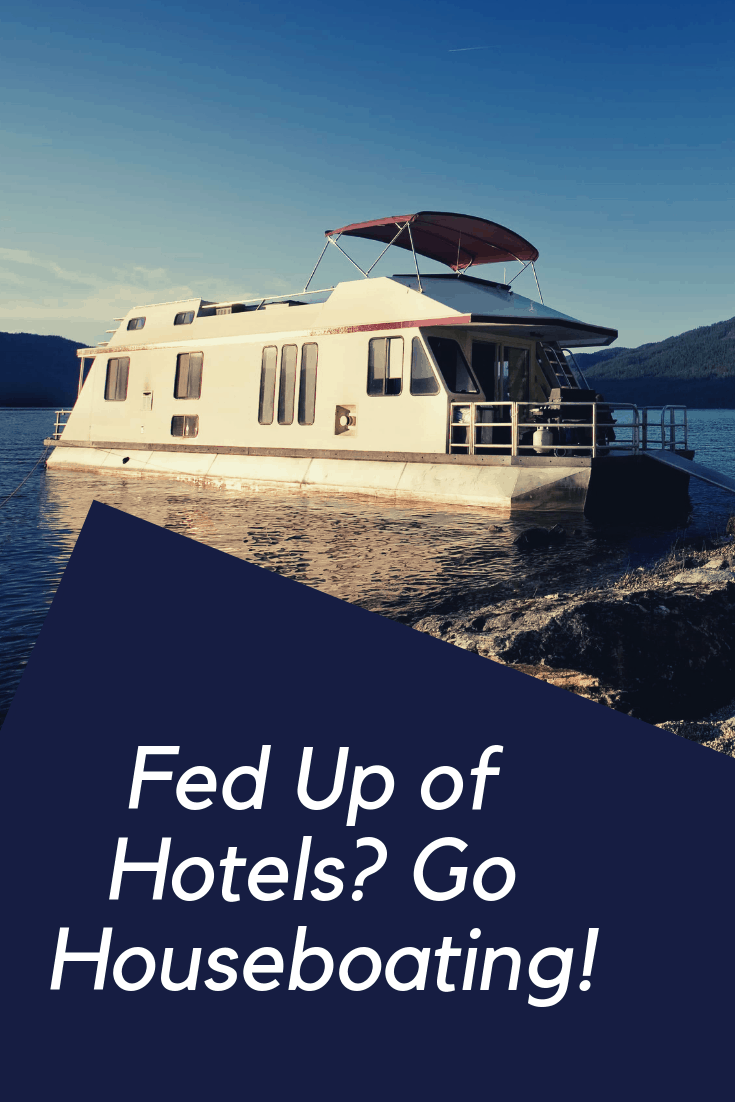 Houseboats are floating mini-homes which you can rent in some of the most spectacular locations of the US and in Canada (and Europe and many other parts of the world too).
Houseboats were originally built to offer workers affordable housing. What was initially considered as cheap housing during the recessions years became later either summer retreats for the wealthy or an alternative way of living for artists and creative people.
Also interesting: The Connection Between Great Sex and Great Sleep
Many of the houseboat communities in cities like Seattle, New York, or Amsterdam in Europe share this history.
Houseboating as a way of spending vacation started in the United States already in the late 40s parallel to the increasing tourism. People traveling to places like Lake Cumberland in Kentucky were looking for ways to stay on the water for longer periods.
Why is houseboating so popular?
One of the main reasons why houseboat vacations became more and more popular in recent years is that it offers you proximity to nature like camping, but with the comforts of home.
Think of a houseboat vacation more like a sort of uplifted glamping or a trip in a spacious RV, just on water. Although the houseboats come in different sizes and vary from basic to luxury, they are all equipped with a full kitchen, bathroom, running water, bedrooms, etc.
Also interesting: 8 Easy to Follow Tips On How to Get Sleep on a Long-Haul Flight
A vacation on a houseboat offers you the best of both in magnificent sceneries: total relaxation as well as endless possibilities of exciting activities. Lose yourself while exploring the lake, river, canal, or canyon. Go swimming, fishing, cruising around in a speedboat, or moor the houseboat to the shore and explore the wildlife.
What different houseboat types can you rent?
Depending on the location, where you want to rent the houseboat, there are many different types and levels of houseboats. You can choose from small and less expensive economy or standard class boats to massive and costly luxurious ones.
Therefore, when renting a houseboat, there are basically three main factors to take into consideration: the size, the amenities, and the budget which we cover further below.
What is the typical size of a houseboat?
Rental houseboats begin at about 33 feet and range to up to over 90 feet. Depending on the size, they can accommodate any number of people from 2 to 22, or even 30.
While small houseboats in the 30-feet range are for max 2 to 4 people, the bigger houseboat of about 50 to 56 feet can sleep up to 12 people. The biggest rental houseboats of over 90 feet with a capacity of up to 30 people looks more like a mini cruising boat than a traditional houseboat.
When renting a houseboat, you need to compare the number of people that will be joining you to the number of beds. Usually, a bit bigger is better, the last thing you want is to rent a houseboat which is too small for your group. If you do your research online make sure to look for the floorplan of the different houseboats on the agent's website.
Also interesting: 6 Compelling Reasons Why You Should Sleep Naked
However, if you are a larger group and cannot afford a houseboat with the appropriate amount of beds, you have the option that some of your friends camp on the beach while the houseboat is moored to the shore.
Amenities of the houseboat
Let's start at the top just to let you know how luxurious houseboating can be!
High-end luxury houseboats have all, in most cases even more of the comforts of your home. They are equipped with state-of-the-art entertainment systems, satellite tracking, several private staterooms, gourmet kitchen with dishwashers and microwaves, fireplaces, water slides, hot tubs and often much more.
The choice is yours, and in case you really want to pamper yourself, there are definitely several options to choose from. To meet the growing trend, many rental agencies are expanding their fleet with that kind of luxury houseboats.
However, a more traditional houseboat vacation means to rent a houseboat in the standard class. The main difference to a deluxe houseboat is that they are normally smaller in size and have more basic amenities and furnishings.
So in case you are traveling only with your family or a small group of people, an economy houseboat is probably the right choice for you. Especially if relaxing and enjoying the wilderness is what you are after. Why paying for extra luxury, when one is already spoiled by the lush nature?
Also interesting: The Ultimate Guide for a Good Night's Sleep in a Car
Apart from the basic amenities like a kitchen with a refrigerator and stove, bathroom, running water, and bedrooms, many houseboats are equipped with a TV and a barbecue grill. They have a waterslide off the top deck and a swim ladder off the back deck, some may also have a hot tub.
However, the features vary significantly based on the different models but most houseboat agent websites provide a full list of features and amenities.
Houseboats are usually stocked with all necessary kitchen utensils, so all you have to bring is food and beverages. Bed linens and bath towels are sometimes included, sometimes not. So make sure to ask your agent.
What extras should you include in your houseboat rental?
At many houseboat destinations, it is recommended to rent a small speed boat in addition to your houseboat. It will add an exciting dimension to your houseboat vacation as you can extend your activities by water skiing, wakeboarding, or tubing.
A small boat is also an ideal way to explore more locations on the lake and on shore. Besides, it is a great time saver when scouting for potential anchor locations. Just jump quickly into your small boat and look if the cove and beach you spotted are appropriate for mooring and campfire.
Of course, anything that floats can add variety to your experience. Items like inflatable rafts, air mattresses, kayaks, canoes, stand up paddleboards, etc. can often be rented along with the houseboat.
Is a houseboat difficult to operate?
This question may have crossed your mind already at the very beginning because piloting a 56 feet vessel might seem a bit intimidating.
But operating a houseboat is actually surprisingly easy. That is probably also the reason why on most waters there is no special license needed (exceptions are e.g. Lake Travis, Lake Ouachita, Florida Keys; some location require a certification to be done before your arrival: Lake Mead, Lake Mohave, and Lake Lanier)
Also interesting: Can't Sleep? Find Out if it's Time for You to Sleep in a Hammock
Apart from some basic rules on how to navigate a houseboat on waterways and how to deal with other naval traffic, there is not much you need to know when first renting a houseboat. The only condition is that in most cases the captain, as well as the co-captain, requires a minimum age (typically 21 years old); that is something to be aware of.
How fast are houseboats?
Keep in mind that cruising a houseboat and racing around in a speed boat is as different as driving a Fiat 500 or a Ferrari. You can only go at about 10 mph in a houseboat, one of the reasons why it is such a soothing and relaxing experience.
That being said, houseboat rental companies usually provide orientation and some safety training before undocking. They explain to you everything you need to know for you to be able to pilot the houseboat on the open lake.
Besides, the staff may help you to navigate your houseboat out of the marina and with the docking maneuver upon your return. If you already want to get the taste before you can also search on Youtube. There are many videos about the basic principles on how to start, navigate and dock a houseboat.
Often, you can pilot the houseboat from its top deck
However, once you are on the wide-open lake, you are on your own. But there is truly nothing to worry about. On the contrary: Most houseboats have a flying bridge, and you can pilot the boat from the top deck. You will soon become familiar with the basic operational features.
Also interesting: Why Earthing or Grounding Helps You Sleep Better and Fight Off Inflammation
Imagine yourself standing on the top deck and piloting your houseboat. Your initial insecurities will fade away quickly, and soon be replaced by the growing confidence of a proud captain.
How do you anchor or moor the boat?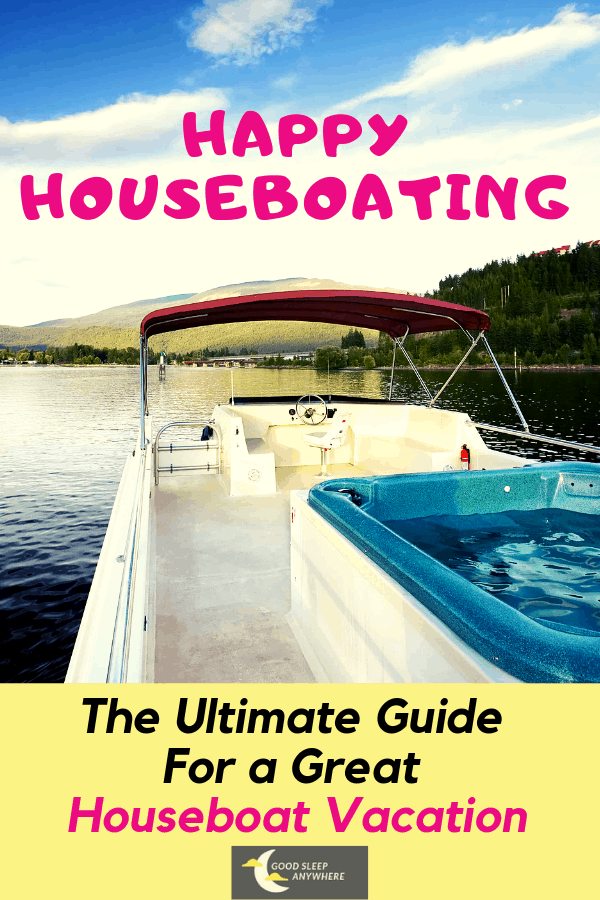 Many people think that you anchor in the middle of the lake, but most lakes or waterways where you can operate a houseboat are actually too deep.
Generally houseboats moor, or "beach", to the shoreline. It's a process in which you pull the boat to the shore and secure it with two stakes, or tie it to a large tree stump.
You can pretty much moor to shore anywhere you like. Good locations are coves with a sandy beach and where you are protected from the wind.
You learn how to moor and stake the houseboat to the shore during your initial orientation. Ask the staff for some suggestions for good locations.
Also interesting: How to Sleep Well When It's Noisy?
That said, there are a few locations where mooring to the shoreline is not possible as it has potential hazards like rocks or roots: Kentucky Lake, Erie Canal, Mississippi River, St John's River, and Suwannee River and California Delta. Houseboats on these waters have an anchor on both ends of the boat which allows you to fix it on water steadily.
What kind of gas/fuel do houseboats take?
Houseboats generally run on regular gas, and a full tank lasts typically for 7 days, although this depends on how far you go and how much you run the generator each day. The generator may run anything that requires energy on the houseboat like air conditioning, lighting, stove, oven, and fridge.
That said, some houseboats have an additional inverter system which is basically a battery backup. It runs the houseboat's electricity without having to run the generator and helps keep your food cold in the fridge overnight.
Also interesting: How to Find Good Sleep When Your Allergy Is Bad?
One thing to be aware of is if you are using a CPAP machine. While it usually doesn't create any problems when traveling on a boat, make sure to ask the staff how to accommodate the device on your particular boat model.
What to do while being out on the water?
You might be asking yourself what is there actually to do once you're out on the water? The beauty of a houseboat vacation is that it allows you to combine both a relaxing and adventurous time with your family and friends. Nothing quite equals a day spent out on water being able to explore the lush nature.
A significant advantage of a houseboat is that they are generally quite spacious which gives you the opportunity to either engage yourself in group activities or to spend some time to yourself. On and off a houseboat is something to do for everyone of all ages.
Take it easy or go out exploring
You can either take it easy and lounge in the sun, relax with a book or watch a movie; or you can choose any kind of watersports from swimming and kayaking to wakeboarding and tubing from the back of a powerboat.
In case you will get a bit bored from the usual cruising and swimming, mix up the routine and do something out of the ordinary. Dock onshore to hike the trails and explore the wildlife. Remember, with a houseboat you have your floating hotel suite always close to you; all activities can be done either on deck, directly off the boat or onshore – the choice is yours.
And picture this: At night, everybody is sitting together, swapping stories and having a laugh while barbecuing on deck. Why not adding a bit of stargazing? Download a star app with constellations of stars and planets. There are simple telescopes available on Amazon for less than $30. Make it a game if you have kids. How many constellations can you find?
Also interesting: How to Travel Easily And Safely With Your CPAP Machine
There is no better view of the night sky than from the deck of a boat anchored on a lake far away from light-polluted cities. And later you sink pleasantly exhausted in your bed and have the best sleep for years.
Examples of what to do houseboating
Here is an (almost) complete list of what you can do on and off a houseboat:
relax with a book
chill in the sun
soak in the hot tub
swimming
fishing
wakeboarding,
water-skiing
cruising on a jet ski
tubing
kayaking or canoeing
stand up paddle boarding
boating
hiking and exploring the trails onshore
mountain biking
visiting local caverns
dam tours
dining out
watching a movie
snoozing and sleeping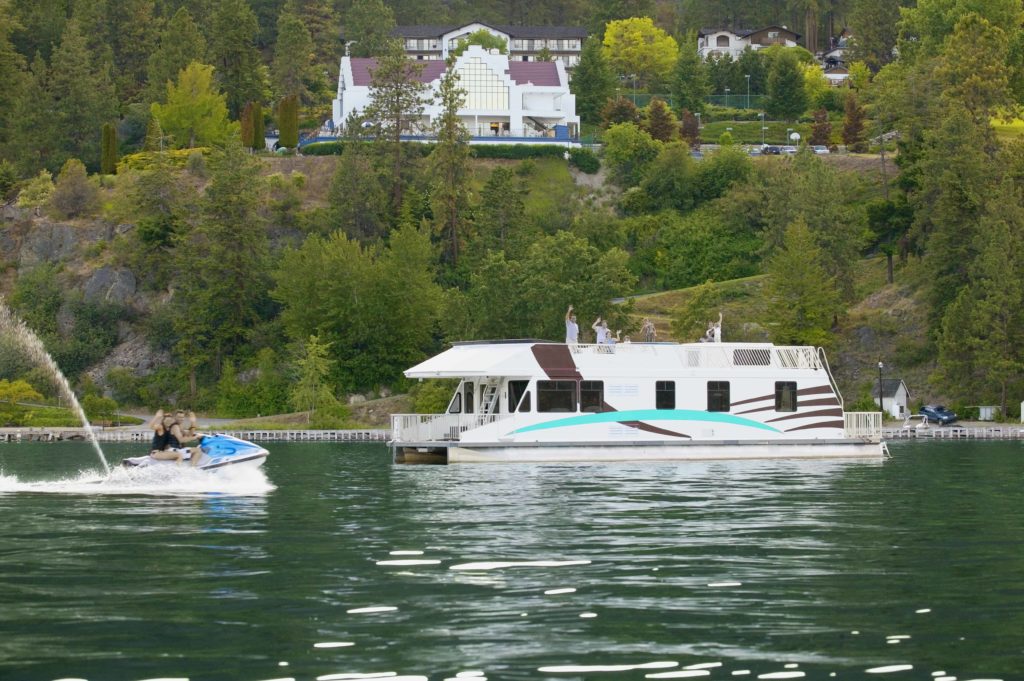 Why houseboating is more for nature lovers
One thing to be aware of though is that houseboating is really not a vacation where you browse in shops along the lake or soak in busy nightlife out in restaurants or bars – simply because there won't be any (exceptions are bigger waterways such as Erie Canal or Mississippi River).
If the idea of being surrounded 24hrs by nature does not sound enticing to you, you may find a houseboat vacation on a lake a bit too peaceful and somewhat off-putting.
Also interesting: Why Sleep Is Your #1 Life Hack For Better Aging
That is also something to keep in mind when gathering a group of friends. For the sake of your friendships and mental well-being, make sure everyone gets something out of nature. Nothing puts more a damper on a vacation with family or friends than arguments caused by wrong expectations.
How safe are the houseboats for children?
Generally, houseboats are designed to cater for families with children of all ages. However, since you are on the water, special consideration for children's safety is necessary. As there are more and more different types of houseboats available, the most important is to select the right one. Check with the rental company which houseboat is equipped with the following safety features.
Is the houseboat equipped with a railing along both the entire upper and lower decks?
Does the houseboat have safety latches on all gates and doors?
Are there latched gates to close off the stairs and the slide?
Do they provide child-sized life jackets (make sure that you check the size)?
Many houseboats have a gate and latch to block off the slide, but sometimes not the stairs. You need to be a bit inventive by moving some furniture in front of the stairs or even better, bring a baby gate to block off any potentially dangerous spot.
Also interesting: How to Help Your Child to Develop a Healthy Sleep Rhythm
You need to keep an eye on children constantly. All children should wear life jackets while on the deck; remove the life jacket only when you are keeping the child within your arms. It is crucial that the life jacket fits. Therefore, ask the agent in advance which sizes they provide; if in doubt bring your own. Life jackets which do not fit correctly are neither safe nor comfortable.
What else you to bring to a houseboat vacation with children: an appropriate first-aid kit, swim diapers (if still needed), hat, sunscreen, water shoes, and of course some inflatable water toys and some entertainment while out of the water (games, books, movies, coloring books, washable paint, etc.)
Can you bring pets to a houseboat vacation?
Can't imagine going on a houseboat vacation while leaving your furry friend at home? Don't worry, on the majority of the houseboats pets are allowed. And your dog will surely enjoy houseboating as much as you and your family and friends will.
However, again there are exceptions. Check in advance if it's no problem to bring your dog along and what the conditions or potential restrictions are. An extra fee for your dog may be charged based on your dog's size and weight. Sometimes it's only if your pet causes any damage or additional deep cleaning becomes necessary.
Common pet rules apply of course also while houseboating. So keep your dog leashed while exploring onshore and clean up after him. You should also consider bringing a dog-lifevest. Remember, you are in open water, and your dog may get tuckered out. He might end up consuming too much water, and in severe cases drowning.
Can houseboating be dangerous?
Staying on a houseboat is generally very safe. Houseboats are designed in a way that gives them extreme stability and buoyancy; tipping over or sinking is very rare; however it can happen, e.g. during strong storms (read this post).
Also interesting: 7 Things You Should Never Do In Your Bedroom
That said, there are a few things to be aware of while being on a houseboat or while swimming close to it. Number one, never run the generator or engine all night while sleeping in order to avoid carbon monoxide poisoning. The exhaust can build up inside the cabins as well as under the rear deck. While most boats are equipped with a monoxide alarm, don't rely on it; just follow the simple rule to switch off generator and engine while sleeping.
Don't use a houseboat as a towing boat
Same applies while swimming and diving close to the boat or using the slide. The engine needs to be turned off to ensure that the propellers aren't in motion. That is also the reason why it's not safe to use a houseboat as a towing boat for waterskiing, tubing or wakeboarding.
Also interesting: How to Travel Easily And Safely With Your CPAP Machine
Keep in mind to perform all water activities only while the houseboat is stationary at a fixed point.
Turning off the generator may affect your fridge in case it runs off electricity. Make sure that there is an ice chest on the houseboat in which you can store perishable food overnight.
Also, ice is usually not provided, but you can get it at the marina. Bring plenty of ice before leaving the marina; in case you run out of ice mid-trip you may need to head back to the marina for restocking. Alternatively, ask for a houseboat where refrigerators (and stoves) run on propane gas.
Small children must ALWAYS wear a well-fitted life jacket
I repeat myself, but especially for small children, a well-fitted life jacket should become a second skin while aboard. Check with the agent or marina which sizes they provide or even better get your own one from a special boating or water sports shop where experienced staff will help you to find the right type and size.
As your baby most likely will not be used to moving around in a life jacket, it's a good idea to practice beforehand. Make it fun, put on your own life jacket, exaggerate your movements to make it silly and entertaining, and your little one will love to do the same.
Also interesting: How to Prevent Your Child from Developing Lifelong Sleep Problems?
Plus, always keep an eye on your child while being on the boat or spending time on shore close to water, flames of a campfire, etc.
Take other common-sense precautions such as protecting yourself from the sun
Use high protection factor (waterproof) sunscreen
Wear a wide-brim hat and sunglasses that block UV rays
Wear long-sleeved clothes or long sleeve / full-body rash guards while swimming
Limit exposure by seeking shade
In case you want to have a campfire on the beach, make sure that it is allowed at the location you're planning to go to and if you need a permit. Set up the campfire always at a safe distance from the houseboat as well as from trees, bushes or anything that could catch fire. And don't forget to extinguish the fire completely. Drown the fire with water, make sure everything is wet
Here is a brief recap of the precautions you should take:
turn off the generator and engine while sleeping as well as while swimming off your houseboat
don't use the houseboat as towing boat
bring ice to fill the ice chest in case the fridge runs off electricity
perform water activities off the houseboat only while it is securely anchored
at least the children should wear well-fitted life jackets while being on deck
protect yourself from the sun
always play it safe with campfires
How much does houseboat rental cost?
Many people think that renting a houseboat must break the bank. While it can be expensive if you choose a high-end model during peak season, there are plenty of options to make a houseboat vacation possible for every group and budget. Houseboat pricing depends on location, type of houseboat, length of trip, and the season.
The general costs of renting an average houseboat in the US involve:
Houseboat rental fee (including cleaning fees)
Boat insurance / tax
Gas / fuel
Food
Extras (extra small boat, water toys, etc.)
Every one of these fees is very variable. Also, gas prices generally increase in the high season. Therefore, it is difficult to summarize the exact costs. However, as a rough estimate, if you sum up all the expenses, you can spend from about $120 per (adult) person to up to $500 (or even more if you go deluxe) per person per day.
Also interesting: A Full Guide On Lyme Disease And Why It Causes Fatigue AND Insomnia
With that in mind, this rough estimate doesn't count any additional travel expenses which might become necessary to get to the houseboat destination, such as motel stays, flights, etc. A useful sample calculation gives you this trip advisor post.
However, my advice is to research as many rental agencies' websites as possible to get a picture of what is available and what are the associated costs.
What factors influence houseboat pricing?
Choosing the boat
The size of the boat depends on how many beds you'll need. The general rule of thumb is one stateroom per couple. Children usually sleep in spare beds, or on pullout sofas. There is also the option that they share the main living area or sleep on mattresses on deck.
Next is the level of amenities you want to go for as this is another critical factor in determining the cost of a houseboat. Deluxe houseboats with amenities such as state-of-the-art sound systems and hot tubs will be a lot more costly than a standard class houseboat.
Also interesting: How to Keep Snoring From Ruining Your Relationship
That said, high-end houseboats are generally larger in size, and might be a perfect fit in case your travel in a larger group and share the cost.
Meal Planning
Keep in mind houseboating means that you or someone in "your crew" is the chef. The fact that you prepare your meals yourself will help to keep the cost significantly lower than eating out in restaurants.
You can plan your meals ahead of time, have the freedom to choose between basic and sophisticated recipes and split the cost of groceries with your group. Also, buying the main ingredients in bulk will keep food cost low.
Pick the right season for discounts
Houseboating is not only for the summer month. In fact, in many houseboat destinations, you can rent all year round.
Also interesting: Can CBD Hemp Oil Really Improve Your Sleep?
In fall it is generally still warm with pleasant water temperatures and often clear skies, while nights are getting comfortably cooler.
Spring is perfect for enjoying onshore hikes and viewing wildflowers and wildlife. If you're a fool for fishing, winter might be the best time for your houseboat vacation.
Book early or go off-season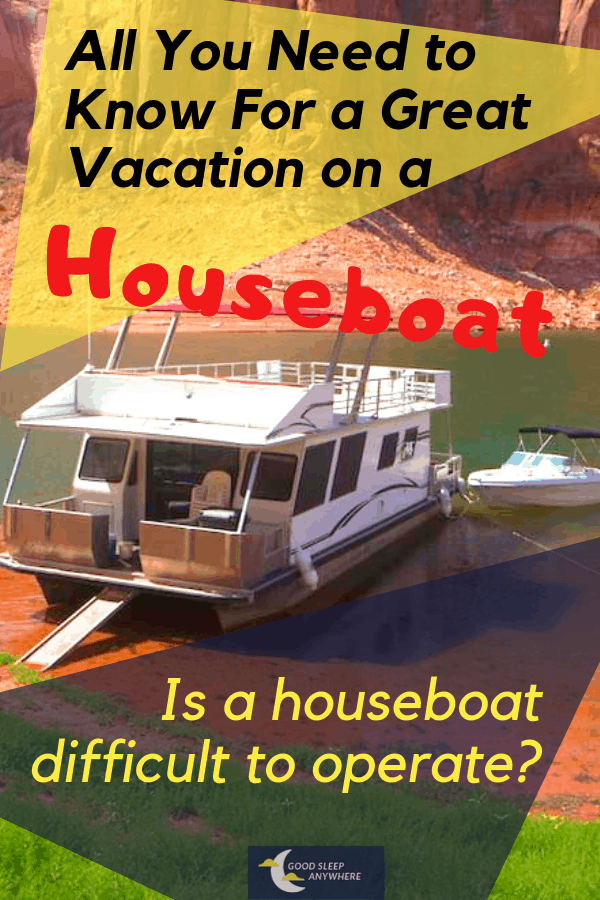 Not surprisingly rental rates are much lower off-season than during the summer vacation months. However, if you only can go during the summer make sure to book early; if possible before the end of the year.
So start with your research well in advance, like 9 to 12 month before going. Many houseboat agents offer early-bird discounts including rentals for extra equipment such as an additional small boat or water toys. Also, chances are high that your desired dates and houseboat mode are still available.
In general, houseboat rental brings to table a unique opportunity to travel with a large group with a pocket-friendly total cost and less hassle than a typical vacation.
Also interesting: Can Deep Pressure Therapy (DPT) by a Weighted Blanket Improve Your Sleep?
When you compare the planning time and cost required to make travel arrangements, entertainment activities as well as meal planning as well as for a group of 2, 10, 12 or more – houseboating is not only more unique and relaxing; if planning is done right it can cost significantly less than many other forms of vacation.
11 important questions to ask yourself and the agent when renting a houseboat:
What is the best houseboat for me (depends on your budget, when, and where you are going, as well as who is coming)?
What are the total costs (houseboat rental, cleaning fees, fuel/gas, insurance/tax, food, other rentals, additional travel costs)?
Are there any restrictions (maximum capacity of people on the boat, special operating permits required, etc.)?
Until when do you need to make a reservation?
Does the houseboat agent offer any special discounts?
When Do you need to pay the deposit and when the final rental fee?
Which insurance is available and what is covered?
What is the cancellation policy?
What is included in the rental and what do you need to bring from home (e.g., bed linens, towels)?
What extras do you want to rent (small boat, water toys, etc.)?
Are any additional fees required (e.g. park entrance fees)?
Also interesting: A Full Guide On How to Lucid Dream Tonight
Most popular houseboat destinations in the US and Canada:
Lake Cumberland, Kentucky

Lake Cumberland one of the largest lake by volume in the US and consisting of 1200 miles of shoreline is considered being the Houseboat Capital of the World.

Kentucky Lake, Kentucky

Kentucky Lake is one of the largest water reservoirs in the world offering both developed shoreline areas with water parks, golf courses, and museums as well as isolated natural wonders.

Lake of the Ozarks, Missouri

Lake of the Ozarks also called the "Midwest Coast" has over 1100 miles of pristine shoreline.

Lake Powell, Utah and Arizona

Houseboating on Lake Powell gives you the unique opportunity to discover the fantastic orange-red cliff shoreline as well as to dive into the deep blue waters of this beautiful lake.

Lake Mead, Arizona and Nevada

Only one hour's drive from Las Vegas Lake Mead gives you the opportunity you to swim in sparkling blue water or to anchor in one of the incredible red rock canyons.

Lake Mohave, Nevada

Lake Mohave is part of Lake Mead National Recreation Area and is a paradise for nature lovers. Some of the plants and animals can only be found here.

Lake Havasu, Arizona and California

Popular houseboating destination for both Spring Breakers and families with easy access to the nightlife of Havasu City.

Lake Shasta, California

The forested mountainous shoreline of Lake Shasta offers exceptionally clear and calm waters perfect for any kind of water activities.

Lake Don Pedro, California

Why not taking a houseboating break at Lake Don Pedro next time you are heading to Yosemite? Lake Don Pedro is one of California's best recreational lakes with hundreds of hidden coves and inlets to explore.

Lake Oroville, California

Being less crowded than other lakes in California Lake Oroville is a great destination for a houseboat vacation with your family especially if you are new to houseboating.

Trinity Lake, California

Although located close to Lake Shasta, Trinity Lake is not over-populated and offers countless tree-lined inlets, secluded coves, and beaches ready to be explored.

Lake Billy Chinook, Oregon

Lake Billy Chinook is truly unique. It is a deep narrow canyon lake with dramatic cliffs offering you a boating experience you probably won't find anywhere else in the US.

Birch Lake, Minnesota

Beautiful Birch Lake in the heart of Minnesota's Superior National Forest is a real natural wonder and offers all you need for the most relaxing houseboat vacation you can think of.

Crane Lake, Minnesota

Another natural masterpiece is Crane Lake with myriads of secluded waterways and part of the largest chains of inland lakes in North America.

Voyageurs National Park, Minnesota

Explore endless opportunities on the water or on the shores of Voyageurs National Park the United States' largest waterways park.

Lake Vermilion, Minnesota

Lake Vermilion is famous for its beautiful red sunsets and the unspoiled wilderness as well as plenty of wildlife.

Rainy Lake, Minnesota and Ontario in Canada

Rainy Lake's southeastern end stretches into the water networks of Voyageurs National Park. The long diverse shoreline and the many islands offer endless opportunities to explore and to spend the day or night in seclusion.

Lake Koocanusa,

 

Montana and British Columbia in Canada

Lake Koocanusa is a river-fed mountain lake between the US and Canada. The pristine shoreline offers secluded sandy beaches which can only be reached by boat.

Shuswap Lake, British Columbia, Canada

Shuswap Lake is a natural beauty halfway between Calgary and Vancouver. Chill out on the beach or take a hike in the awesome wilderness to one of the breathtaking waterfalls.

Lake of the Woods, Ontario in Canada

Lake of the Woods in Ontario, Canada is massive spreading over 1,600 square miles and a shoreline which is is 25,000 miles long – plus the shorelines of the over 14,000 islands.

Lake Ouachita, Arkansas

Lake Ouachita is Arkansas' largest lake and it's famous for its pristine clear waters perfect for fishing and scuba diving.

Bull Shoals Lake, Arkansas

Surrounded by the Ozark Mountains Bull Shoals Lake offers clear waters and a forested shoreline with endless hidden coves and inlets.

Raystown Lake, Pennsylvania

Pennsylvania's largest lake has 120 miles of green shoreline and almost 30 miles of navigable waters

Lake Roosevelt, Washington State

Lake Roosevelt is an almost river-like narrow lake with over 630 miles of shoreline and plenty of sandy coves to choose from.

Erie Canal, New York

The Erie Canal system spans over 365 miles from Albany, NY on the Hudson River to Buffalo, NY at Lake Erie. It is the perfect houseboat destination if you want to combine your naval experience with exciting stops along the many canals to visit charming waterfront shops, restaurants, and wineries.

Smith Mountain Lake, Virginia

Smith Mountain Lake, nestled in a valley of the Blue Ridge Mountains, is a lake of many inlets, shaded with thick Virginia foliage.

Sutton Lake, West Virginia

Beautiful Sutton Lake is located in the Mountain Lakes Region of Central West Virginia; it offers crystal clear waters and numerous coves to anchor and to explore the lush nature of the surrounding mountains.

Florida Keys

Houseboating in the Florida Keys gives you the unique opportunity to discover the many smaller, untouched islands of this tropical paradise. Choose one and make it your private island for a few days while chilling and barbecuing on deck or snorkeling in pristine waters.

St. John's River, Florida

Three hundred miles long and often two miles wide St. John's River is a major river, but with slow-moving waters giving you plenty of opportunities to explore the abundant wildlife in and out of the water.

Mississippi River

   

Especially the Upper Mississippi River offers your one of the most unique houseboating experiences in the United States letting you discover both, secluded coves and sandy beaches along the shore as well as exiting river towns.

Norris Lake, Tennessee

Norris Lake is a large reservoir and definitely an excellent spot for boating and leisure activities. Although there are many marinas along the shore

Dale Hollow Lake, Tennessee

Dale Hollow Lake is an exceptional picturesque lake located at the Kentucky / Tennessee border; it is a fishing paradise, famous as the world's best smallmouth bass lake.

Lake Travis, Texas

With its clear and clean fresh waters, beautiful Lake Travis is a popular recreation spot for the people from Austin. Why not combine your houseboating vacation with a visit to Austin, the greenest of large cities in the United States?
Resources
https://www.houseboating.org/
http://www.lake-powell-houseboat-rentals.com
http://www.houseboatmagazine.com/