How to Travel Easily And Safely With Your CPAP Machine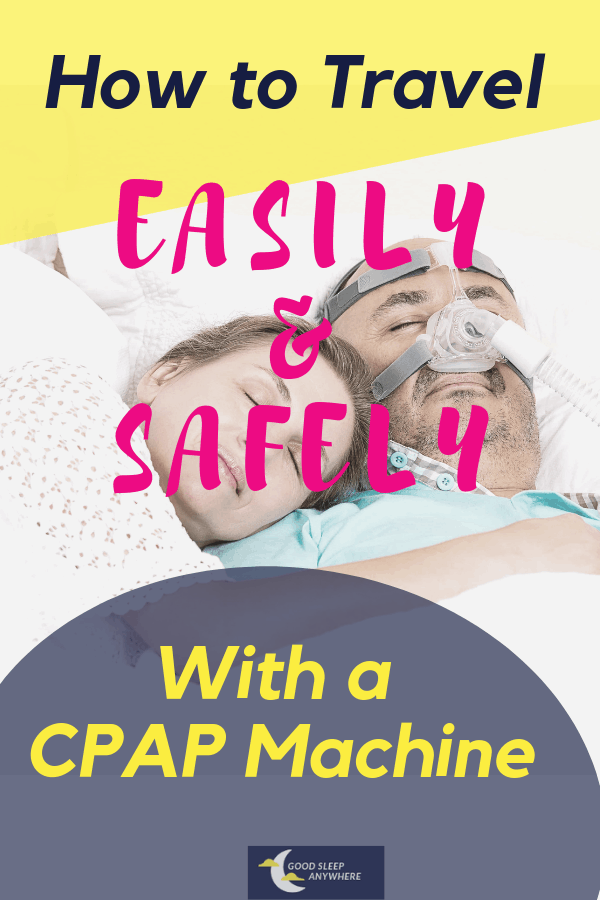 With the Travel season approaching you might ask yourself how you can travel with your CPAP machine. Especially if you are a CPAP newbie and still overwhelmed by its usage at home, the idea of having to use a CPAP machine while being away from home might be very daunting.
However, traveling with a CPAP machine is not as complicated and challenging as it might seem to you. There is really no need to skip your therapy and leave your device at home as you would end up with little energy and potentially other health risks. All you need to do is to plan your trip a bit in advance and to check off a few vital factors before hitting the road.
If you follow this advice you know the necessary steps to take when traveling with a CPAP machine.
Getting your CPAP machine ready for the flight
As CPAP machines are considered medical devices covered under the Americans with Disabilities Act they and they do not count as one of your carry-on items. So you can bring your CPAP machine in its traveling case into the plane in addition to your allowed carry-on baggage. And carrying it on the plane is definitely recommended. Don't check your CPAP machine as there is always the risk of lost or damaged luggage. The rule is to keep your CPAP equipment with you.
If you travel internationally, make sure to bring the proper adapter and plaques for the countries you are going to. Although your CPAP may have a universal power supply, it's wise checking if it really adjusts to the individual specifications and currents you are coming across. For example, the standard in many foreign countries is 240-volt, 50-cycle current, so you have to make sure your CPAP machine will work.
Before packing clean your CPAP machine, so you don't have to bring all the supplies to clean it during your travel. Also, make sure the humidifier is empty.
Depending on the destination and type of travel you may want to consider bringing a backup battery pack – especially if you are going outdoors camping or heading to places with insecure power supply and power outages.
Also, take your prescription with you just in case you require additional supplies while staying away from home. It's also worth checking with your CPAP provider if he can ship missing supplies or even a replacement in case needed. CPAP machines may be difficult to replace at your destination.
It might also be a good idea to bring some spare parts such as a backup mask and tubing. You never know if and when an accident may happen, and you can be assured that you will then have the necessary replacement part. If there is any part (usually mask) that needs to be replaced, do it before traveling in order not to have a problem while being away from home.
Getting through TSA with your CPAP machine
Once you arrive at the airport, you shouldn't have much hassle with security. TSA agents usually are very familiar with the equipment and recognize them as medical equipment. However, this might not be the case when traveling abroad. Therefore, make sure to label your CPAP case with a visible medical equipment luggage tag. Also, make sure to keep a copy of your CPAP prescription on hand in case further explanation becomes necessary. This is also helpful if it is checked for explosive residue.
Same as your carry-on luggage your CPAP machine needs to be X-rayed. To keep your CPAP machine clean and safe put it in a clear plastic bag before placing it into the screening bin. Also, if an agent wants to inspect it and does a swab test, ask him politely to use a fresh pair of gloves and an unused swap.
As you probably know CPAP manufacturers recommend you only use distilled water in the humidifier. Usually, it is possible to get distilled water through TSA security, provided it is prescribed by your doctor and comes in a pharmaceutical grade water bottle. The second best option might be to use bottled water. However, it is a good idea to check with the manufacturer if that works and does not harm the device. In any case, don't use the tap water in the bathroom of the airport or on the plane.
CPAP Packing list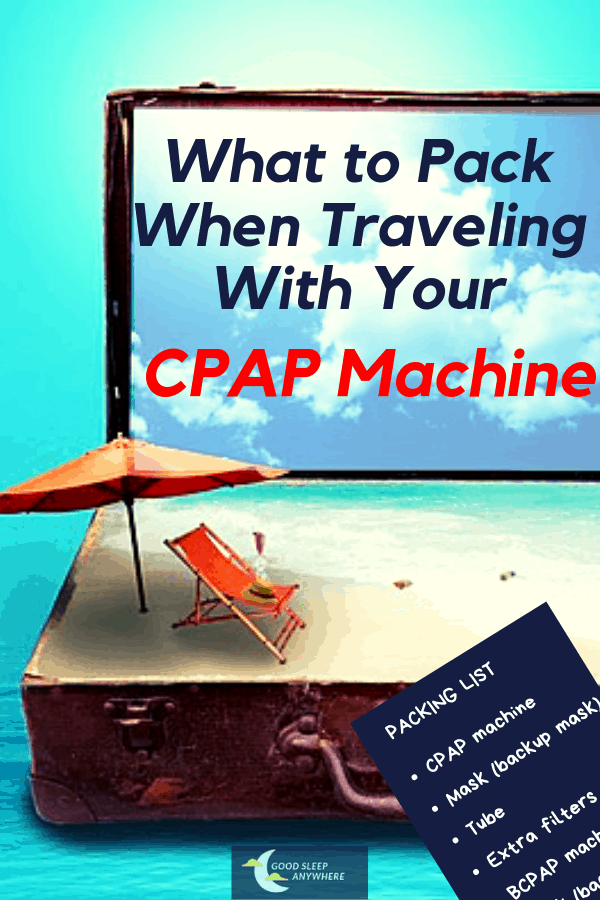 Here is what you need to pack when traveling with your CPAP machine:
CPAP machine
Mask (backup mask)
Tube
Extra filters
Battery (extra batteries)
Extra cushions
Distilled Water Bottle
Copy of prescription
Hose tube cleaner
Cords (extension cord) adaptors and plaques
Number of health professional and manufacturer
Can you use your CPAP machine on the plane?
Since a CPAP machine is a medical device you are generally allowed to use it during a flight – provided it meets FAA standards and regulations. That means a flight crew cannot refuse to let you use your CPAP machine. In a rare case that this happens, you can file a complaint with the Department of Transportation.
However, keep in mind that the individual Airline policies for usage of a CPAP aboard a plane vary. Some airlines request a minimum of 48 hours of prior notice, so it's a good idea to check with the airline before you are heading to the airport.
How can you power a CPAP machine when traveling?
If your CPAP runs on electricity, this is where it might become a bit tricky. First, on many planes and airlines access to a suitable power outlet is limited to first class or business class, or at least to individual seats. Second, even if you have power, you might have to share a plug with your neighbor, or it's only low voltage power for laptops. You can check with the airline or a site like SeatGuru beforehand but keep in mind that airlines sometimes swap out equipment or even the plane itself.
The safest way to use your CPAP on a plane is to avoid the need for electrical power and to rely on batty power. Travel battery packs are available for many CPAP machines, and recently they became lighter and less expensive.
The same applies for your camping trip. If you don't have batteries, you can only go where there are electrical outlets. However, CPAP batteries give you the freedom to go off-grid and to more remote areas. CPAP batteries typically last for one or two nights. If you plan on a longer trekking or hiking trip, prepare adequately and pack multiple batteries.
An increasingly popular alternative is a foldable solar panel charger which can charge your batteries during the day. Later, when you return to your campsite, you have a full battery ready to use overnight – a great option for solitude seekers!
Why purchasing a small travel CPAP machine is a good idea
If you are a frequent traveler, you may want to consider buying a small travel CPAP machine. There are many reasons why it is a good idea to purchase a more travel-friendly device.
You don't have batteries for your current CPAP machine yet
Your current CPAP device is quite big and heavy
You travel often
You love to go camping, hiking or backpacking outdoors
Travel CPAP machines offer many advantages when being on the road, traveling on a plane, in a car or in an RV, or while being in the outdoors camping. Being small, light (some of them under 1lb) and compact travel CPAP machines are easy to operate and simple to carry. They are battery-run and often come with extended battery life. As long as the battery is fully charged, these CPAP devices are as reliable and effective as their full-sized counterparts. In addition, some may even plug into a car cigarette lighter and run off your car battery.
Many of the newer travel CPAP machines are great for international travel as well as they can switch between different voltages ranging from 100 and 240 volts and between a 50- or 60-cycle current.
Popular travel CPAP machines are ResMed AirMini Auto Travel CPAP Machine, Philips Respironics DreamStation Go or Transcend Travel CPAP, and you can find further information at cpap.com.
Conclusion
Wherever you go, either camping over the weekend in the nearby wilderness or boarding the plane for a long trip abroad, there is one thing you cannot go without – a good night's sleep. Therefore, using your CPAP machine is vital also when staying away from home.
As you can see, traveling with a CPAP machine doesn't have to be difficult. Even more so, the use of a CPAP machine doesn't need to get in the way of traveling to destinations where they cannot "plugin". I hope that you've learned some useful strategies for your next trip with your CPAP machine.