Why It's Crucial to Learn to Ask for Help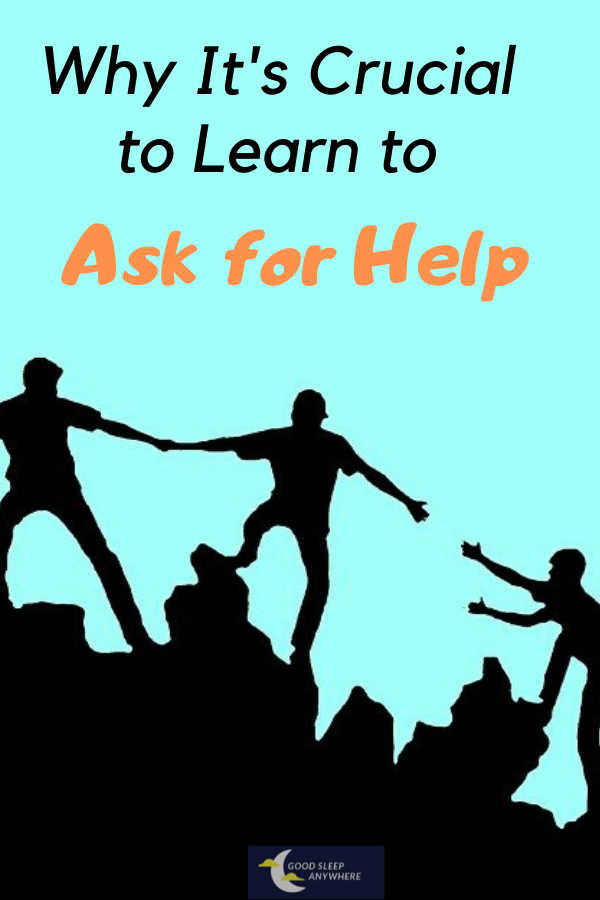 I noticed that people who are facing a condition like insomnia usually choose to take one of the following (extreme) approaches:
They either take it lightly using their insomnia as an easy conversation topic, something they say as small talk at work or a party (which I think isn't always a good idea – only mention it if it is really relevant to the conversation and you think that it might help you to mention it to a particular person).
Or they keep their problem hidden and never talk about the fact that they have trouble sleeping. It really makes me sad, but I have met several people who have suffered for decades in complete silence and never mentioned their sleep difficulties to anyone.
The thing is that I can totally resonate with this approach. In fact, that's what I did for over two years when I was suffering from insomnia (and was one of my biggest mistakes). I think I was too afraid of looking imperfect, that others would think less of me if I would tell them about my situation. So I tried to maintain the facade that everything is okay, but deep inside of me, there was only hopelessness and helplessness.
We all need help from time to time – it's part being human
Whether it is stress, traumatic experiences, relationship issues, illness, or any other life challenge, we all are sometimes overwhelmed. It is part of being human to have limits. Nobody can cope with everything, and we all need help from time to time.
And yet, for some reason, asking for help can be one of the most challenging things in the world. That seems ridiculous, considering we're such a communal species. There are billions of people in the world, and we are all struggling to do what we can for ourselves and our families.
Why does it seem sometimes so impossible to ask for help?
Too many people feel they have to do it alone. Maybe we have had experiences in the past that made us feel that we cannot rely on anyone. Perhaps it seems like there is no one out there who actually cares about what we are going through. Maybe we have been disappointed by others once too often, and we feel that the only person we can rely on to do something right is ourselves.
Or maybe we're just scared. Like I was when I had insomnia.
We're afraid of being vulnerable. We're scared to admit that we're not in control of everything the way we might like to be. We are afraid of thinking that someone out there might be able to do it better than us, and feeling sorry for ourselves or making fun of the fact that we are not able to solve our problems on our own.
We are allowed to ask for help
Life is hectic. It is unpredictable. It is overwhelming. Everybody is struggling in one way or another. We all have a lot on our plates and strive to juggle it all. We have past experiences that can plague us and fill us with self-doubt. We have bad days where we may procrastinate and not get everything done when we hoped we might. We deal with difficult situations that can throw us off of our plans and make our deadlines and goals come plummeting to the ground out of nowhere, leaving us in disorganized chaos and cold-blooded fear.
We are allowed to ask for help. We are allowed to be upfront with the people who are relying on us and ask them for grace when we drop the ball because life is stressful and chaotic, and it can make us feel as if we have absolutely no power at all sometimes.
Why resignation is not an option
In times like these, it is much worse to stay still and resign. If we do that, we soon start to lose sight of everything else. We might lose ourselves in the ease of being left behind. We may accept defeat and spiral down without believing or even considering that someone out there could reach out a helping hand to get us out of the mess we are in and give us the boost we need to get back on our feet.
It's never too late to try again. And with a good support network in place, a fresh start won't be as difficult as it seems. The worst thing is to let things get out of control because you don't want to ask for help. If people are able to do so, if they have the time and resources available to them, they will help you.
You can find help everywhere if you look for it – and ask for it!
If you are looking for resources, even if it is just by visiting the library or searching the Internet, chances are you will find them. There are people everywhere who are in a similar situation. We should all help each other and not let each other fall through the cracks. Even if it is something as simple as asking a partner or child to do the dishes for you, if you come home late from a meeting and you have a hundred other chores to do, it can be a great help.
It frees up time and removes a stress factor from your mind. Be honest with the people closest to you about the burdens you bear, and also be compassionate and receptive to those of others as well. You never know how difficult it may be for someone else to be struggling, just as you may struggle.
Offer help to others too
Treat others as you would treat yourself and offer to help them out from time to time. If a relationship is beneficial to both sides, then that is all the more reason to continue to nurture the said relationship and help to ease each other's burdens.
Never be afraid to ask for help when you need it. And if you find yourself taking on more than you can bear, let people know. Don't hide it. Let people know that you intended to help everyone as best you could, but you said yes to one too many things, and now you are overwhelmed and scared of the failure you foresee. Try to work with others, and they will try to work with you.
Why it's crucial to build a support network
Perhaps one of the most organic ways to offer help and get help when needed is to build a support network. When you have people in your corner who are willing to help you out, it helps to stay motivated and feel positive, even when things seem rough.
People all over the world know the power of other human beings being a part of their circle. It is something unrivaled. We have friends for a reason. They are there to help us stay lifted when things are difficult and to give us someone to vent to when we feel like we need a listening ear.
Be sure to nurture your relationships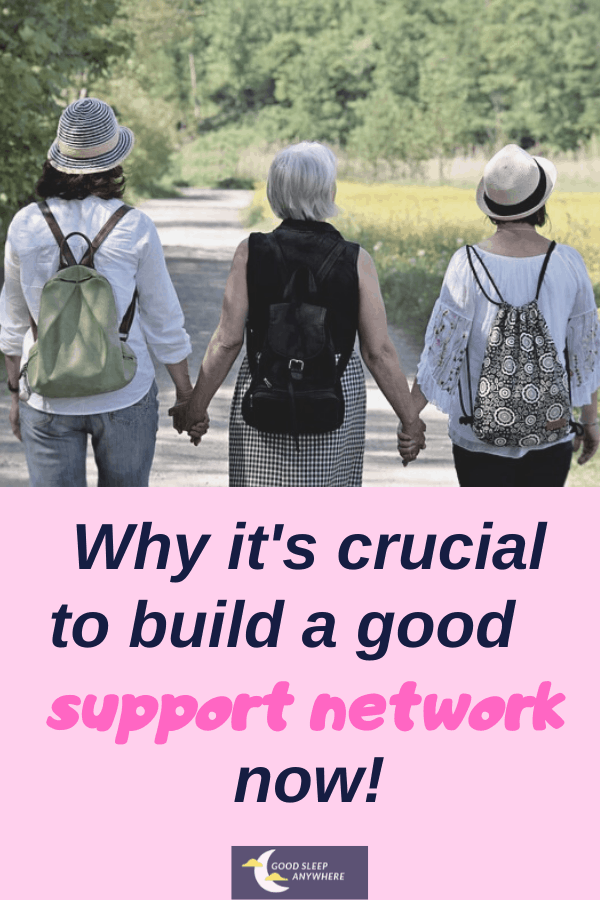 Instead of keeping your problems to yourself all the time, open up a little bit. Don't become a chronic complainer, but be sure to nurture relationships with others that will allow you to get things off of your chest before they begin to get too overwhelming.
It can also help to have several different people's perspectives on the things that you are going through. Nobody wants to face their challenges alone, and all of us have biases in our thinking that can make it feel even more impossible to cope with some challenges. We may forget that we have the strength and capability to face the things that we are struggling with, while others may have faced similar challenges and could offer insights and advice that we wouldn't normally consider ourselves.
Friends and family are far more likely to see your situations in an objective light. They do not carry your burdens and biases and can see what you are dealing with in a fresh light and offer a new perspective. They may even be able to help you prepare ahead of time by reminding you of what they know to be your strengths and weaknesses, so you are armed with the best strategy to approach each situation possible.
How to set up a good support network?
If you are nervous about opening up to others, that's okay. You should always make sure that the people you choose to support you are genuinely coming from a place of caring and support. Learn the traits of a toxic person so you don't give them information that they can use to manipulate or hurt you for their own gain. Don't be surprised if you find yourself drifting away from the people in your life who, rather than showing support, tend to find ways to bring you down or turn all the attention back to themselves.
A support network should consist of trustworthy people. It can be made up of people who share your goals and ideals or who are confronting similar issues. You may also be able to surround yourself with people who are positive and have confidence in your abilities. People who want to see your success and who have nothing to gain from your failure. People who will not be threatened by or jealous of your success.
Being able to talk about your problems is a strength
However, the most critical step is how you approach the people of your support network. Knowing that they are there is one thing. To actually trust them enough and to open up about your struggles is another.
Therefore, don't make the mistake I made when I had insomnia like being afraid of looking imperfect and covering my true feelings up. Instead, let yourself be vulnerable and vent when you need to vent rather than holding it in and allowing it to cause your life more unnecessary stress.
Consider being able to talk about our problems as a strength because it is a great way to get your attention off of the emotional element and begin to focus more on the possibilities of resolving the situation and finding solutions that you can be happy with.